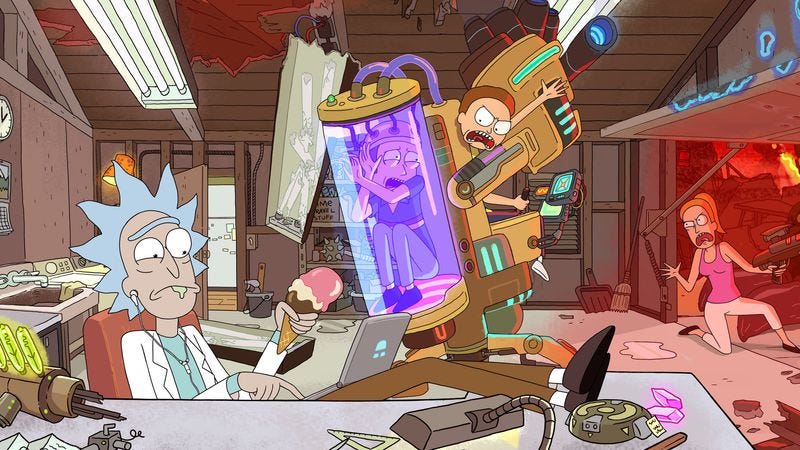 "In the new house, we're going to need a Nihilistic Robot butler named 'Ivan'..."
 "Don't name it! You'll get attached to it!"
"Anything you call it turns into a name, you know."
*Beep Boop Beep* "Attachment is a false premise, meant to distract us from the ever encroaching truth of death."
*sigh* "I'm going for a walk."
"Did you have to make it sound like Ben Fuckin' Stein?"
 "It helps with the drinking..." *drink*
~Par for the Course~
Leadership:

Sort of depends on who is around. Sometimes science. Sometimes witchcraft. Sometimes 'What does this button do?' It's not a complicated decision making tree with this lot.
Members: 
Dr. Andres Sepulveda (Disciple, Son of Ether, Bizzaro Mr. Fantastic)




Margot Travers (Initiate, Verbena, The Calm Half of Carrie)




Ned Gaites (Initiate, Disparate, Puzzle Enthusiast)




William Holmes (Disciple, Order of Hermes, Existential Russian Roulette)



Reputation:
Lots of Weird. None of it good. Alcoholism, Paranoia with a splash of Rick and Morty.
Places They Can Be Found:
[*]
The House beyond all Reason (Aurora, to be specific)
Purpose:
[*]To approach their Traumas and Circumstances with a healthy dose of sarcasm, blunt force denial and apparent library binge moments. Also: Tequila.
[*]Figuring out how best to fit in without actually needing to fit in. 
[*]insulting people without meaning to (Hobby)
[*]Disobeying every Horror Movie trope in the book.
[*]Sorting through past mistakes while finding ways to make new ones.
[*]Leaping headlong into the abstract space of 'Fuccckkkk' without looking first.
[*]Cake. Never a lie.
Cabal Resources:
Library 5